Education Wifi Solution
The pervasive use of laptop computers and mobile devices in academic institutions has created a unique opportunity to dramatically improve the quality of teaching and learning. Even more, digital textbooks on tablet PCs are replacing traditional textbooks in many countries, which envision advancement of students' learning effectiveness.

In order to enhance teaching and learning quality, schools and universities need to provide better services and infrastructure to students, teachers, researchers and the administrative staff. In practice, one of the ways to make an educational environment competitive is to incorporate complete, future-proof Internet connectivity into the campus; then the demand from everyone for unlimited learning resources can be satisfied anytime, anywhere.

SOLUTION BENEFITS

Complete product portfolio from a single vendor can be built and maintained conveniently and efficiently Superior scalability, outstanding performance and future-proof functionality. High access availability and resilience that ensure always-available network resources and minimized network downtime. Robust network security features such as behaviour control and malware protection also guarantee regulation compliance and secure learning environments.

BENEFITS FOR CUSTOMERS

Building a flexible learning environment with improved teaching quality for students and teachers to access the Internet from anywhere within the campus. Delivering a reliable, secure and fast network that enables schools to focus on educating students. Protecting student from inappropriate Web content such as pornography, cyber-bullying, gambling and drugs. Improving school competitiveness for students to maintain desirable grades taking advantage of the unlimited learning resources. Enriching the education experience by incorporating innovative, proven technology into affordable customized solutions that are easy to use and manage.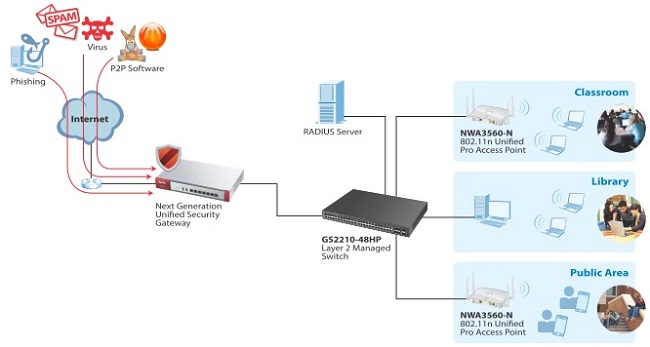 ACCESS PRIVILEGE MANAGEMENT

The foundation for a secure school networks is making sure that all of the school resource are only accessible by authorized users; no matter via wired or wireless connection, users accessing the network should be identified and authorized with specific access privileges through Ethernet switches or wireless devices to ensure the network's protection. ZyXEL Switches and WLAN APs can work with RADIUS servers to enforce authorized access.

CONTENT FILTER

Securing a network backbone can be a real challenge, especially when confidential information is stored in central school databases (e.g. student profiles); students accessing inappropriate Web sites such as pornography and gambling could make the evolving virus and malware threats even worse.

Threats are usually hidden in contents such as cookies, add-ons and rootkits to spread malware while students visit porn, file sharing or gambling sites. Powered by the leading technology, the ZyXEL USG Series Content Filter leverages cloud-based detection and categorization technology to provide the broadest coverage and most accurate policy enforcement, and it is able to index hundreds of millions of sites into 64 categories including highly granular categorization of dynamic 2.0 environments. With the advanced content filtering technology, the ZyXEL USG provides timely, detailed URL security information to protect users from real-time threats such as malware, phishing and spam sites, among others.

SSL INSPECTION

SSL encryption is a highly secure algorithm of protecting online transaction or authentication, and it is widely used in almost every websites. However, SSL encrypted connections are also potential security blind spots that sophisticated threats, bots and other malware hide in SSL encrypted connections to avoid inspection. Meanwhile, Web applications that use HTTPS (e.g. Facebook, Dropbox, Gmail, etc.) also cannot be blocked, throttled or prioritized and could influence the network performance and work efficiency. ZyXEL Next Generation USG Series featured with SSL inspection provides not only comprehensive security, but also deeper policy enforcement. It enables the USG's application intelligence, IDP, content filtering and anti-virus to inspect traffics in SSL encrypted connections and block threats that usually go unseen.


APPLICATION INTELLIGENCE

More and more network applications may bring malicious software into schools. This unwanted software, especially IM/P2P applications, may cause bandwidth waste or even system damage. With the ZyWALL application patrol and bandwidth management features, IT administrators have full control over traffic blocking and rate limit settings. Over 80 IM and P2P applications are controlled to restrict student's access within the predefined time frame. The table below illustrates applications which are critical to school environment.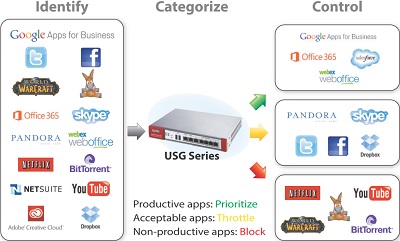 Releated products